First dessert attempt: Sticky toffee pudding.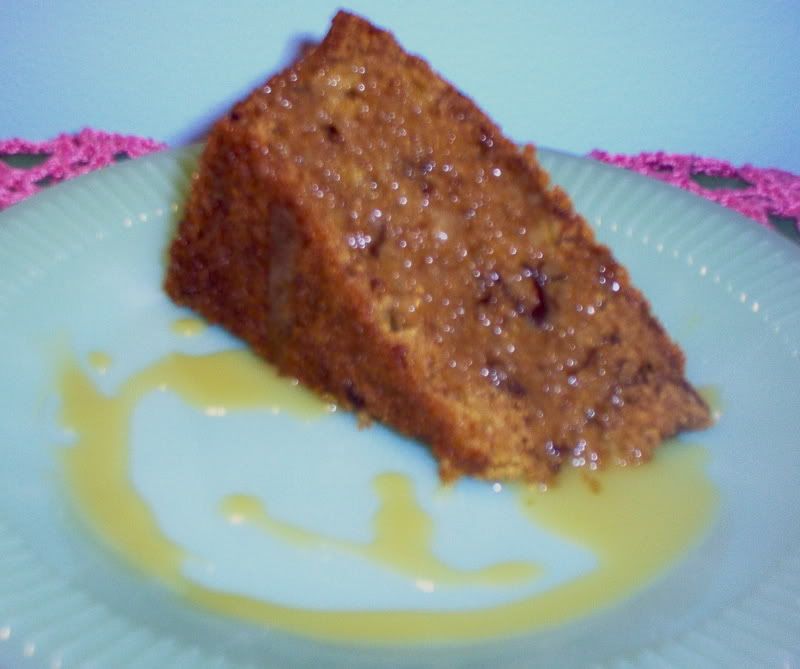 To kick off my 2007 resolution of eating more dessert, I baked a sticky toffee pudding (which was new to me), and it was, hands down, the best cake I've ever tasted. I didn't have any dates on hand, so I substituted some chopped prunes for the dates, and it turned out just fine- no funny flavors.

It tasted like a moist cake, with a dark toffee flavor, and the caramel sauce added a round, buttery flavor to the sharp toffee flavor. It was easy to make (just as simple as a boxed cake mix is to prepare), and the ingredients were on-hand. I'll definitely be making it again. Here's my recipe, which is a modified recipe from
Epicurious
.


Sticky Toffee Pudding with Caramel Sauce
(serves 6 hungry, 12 not-hungry)

Pudding:
1 1/4 c. (packed) chopped prunes
1 cup boiling water
1 stick (1/2 c.) butter, room temp.
1 cup (packed) brown sugar
4 large eggs
1 3/4 cups self-rising flour
2 tablespoons instant coffee granules
1 teaspoon baking soda

Caramel Sauce:
1 c. (packed) brown sugar
2 cups heavy whipping cream
1/2 stick (1/4 c.) butter

For the pudding (cake):
Preheat oven to 350 degrees F, and butter a 9 inch pan.
Combine prunes and boiling water in a medium-sized bowl, and set aside to soften (45 minutes).
Using an electric mixer, combine butter and brown sugar in a large mixing bowl. Then, add 2 eggs, one at a time, mixing between additions. Add 1 cup of the flour, and then mix well after addition. Then, add remaining 2 eggs, one at a time, mixing well between additions. Add remaining 3/4 c. of the flour, and then mix well after addition.

Combine instant coffee granules and baking soda in a small bowl or cup. Add this mixture to your softened chopped prunes (this will bubble violently and make a mess, so do this over your dry mixture bowl). Stir to combine, and then add this mixture to your cake batter (large bowl). Now, beat well to blend.

Pour batter into buttered pan and bake until knife is clean when inserted, about 1 hour. Then allow cake to cool before serving.

For the caramel sauce:
Combine whipping cream, brown sugar, and butter in medium sized saucepan, and bring to boil (stirring constantly). Then, lower heat to medium and simmer until reduced to 2 cups.

Serve the pudding (cake) with a drizzle of caramel sauce.