A chandelier around my neck.
Antique shopping can be such a learning experience, where you can look at, touch, even smell (sometimes unpleasantly) the past; and I personally love browsing through antique shops. I can't seem to afford anything old, unfortunately, unless I'm looking for some old jewelry or junk (don't get me wrong, I like junk). Even when its just old junk, I like to consider integrating it into a jewelry piece. In this case, chandelier crystals are so useful: they come in many colors and sizes, are easily strung onto wire to make a pendant, and are so pleasantly striking yet classy enough to accentuate even casual ensembles.
I have collected several favorite chandelier crystals, mostly clear, but sometimes colored. Here's a piece made from a pink-blue crystal...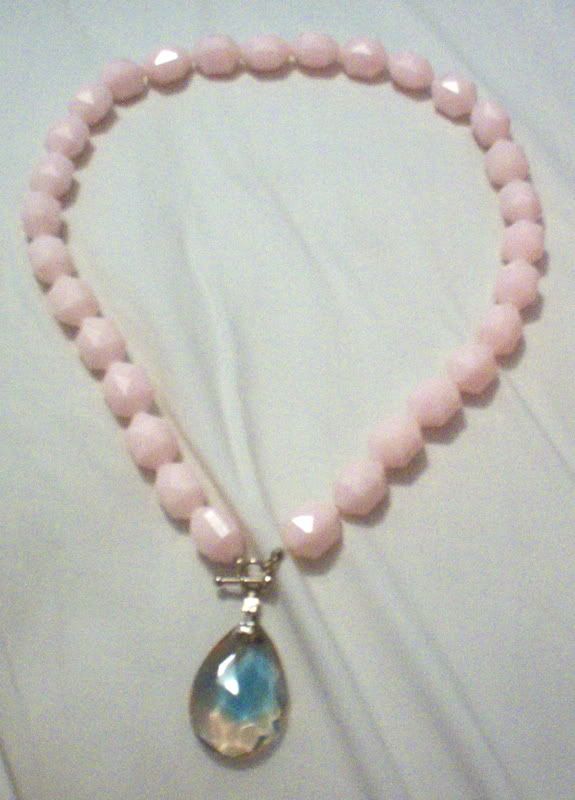 And a closeup of the crystal...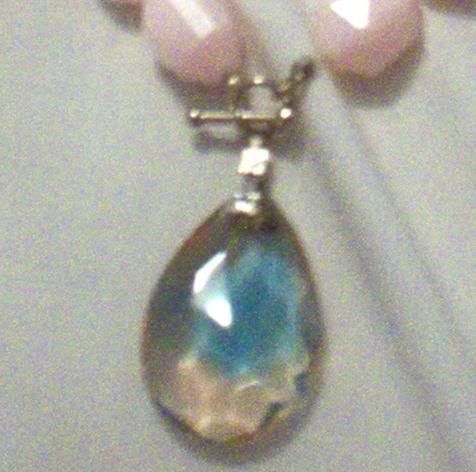 Notice I used a toggle clasp to connect the crystal pendant to the string of old 1960's pink plastic beads (also purchased second-hand, incidentally). Now, I feel I should advise anyone making jewelry from second-hand "junk" to please disinfect the pieces before using them. Keep in mind that someone else has had these things sitting around their house, or around their neck or wrists. Glass beads can be cleaned with rubbing alcohol; however, plastic beads sometimes discolor, so they should be cleaned with hand soap and warm water.